Cody Bogard CJF APF: Owner/Farrier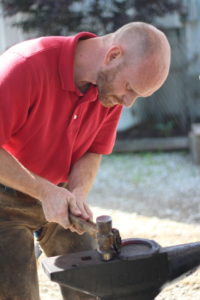 I grew up around horses, spending hours observing, riding, and playing with them. Before studying to become a farrier, I worked as a barn manager and trainer. The prior experience allows me to work patiently with your horse, and to know what your horse needs from the standpoint of both a farrier and rider.
I graduated from the Heartland Horseshoeing School Journeyman course in 2008. I am a Certified Journeyman Farrier (CJF) with the American Farrier's Association and an Accredited Professional Farrier (APF) with the American Association of Professional Farriers. I am also a member of the Indiana Farriers' Association.
Achievements – 2010 High Point winner Indiana Farriers Association shoeing contest.
Other interests of mine include camping, hiking, and working in the forge.
My Approach to Farrier Work:
I am committed to you and your horse. It is through the intentional ideals we hold at Dixie's Farrier Service that I am able to provide quality work. First is education. Understanding anatomy is essential; a horse's hoof and limb are complex and intricate. I understand that everything I do with the feet of your horse affects the rest of their body and their body affects the feet. From cellular structure to conformation to nutrition, I am continually learning for you. Whether it is attending a week long conference on hoof care, attaining another certification, studying anatomy models and textbooks in the office, or simply surrounding myself with other farriers that have more education and experience, I am committed to learning more all the time.
Second, properly implementing the knowledge I have acquired. I purposefully limit the number of horses worked on each day so that I can take the time needed to get each one done just right. While the entirety of trimming and shoeing is endlessly complex I find it comes down to balance and protection. The trim is the foundation of all we do but it is not at all about taking off length or depth. The trim is all about balance. Balance in the equine foot is extremely complex but can be divided into static and dynamic balance. While it would be great to be able to balance each foot perfectly and keep it barefoot there are many times that shoes must be used for either helping to balance a foot or provide protection. By utilizing almost all handmade shoes I am able to give each horse exactly what it needs.
Kia Apple: Director of Social Media/Marketing
My love for horses has spanned almost my entire life. I have experience with horses from years of riding lessons and various job positions, but am always in awe as I learn more.
I joined Dixie's Farrier Service at the beginning of 2017 and immediately grew to love their mission and passion. I have learned so much from this job and am continually learning to best serve our clients and horses. I cannot contain my excitement for what is to come for this wonderful company.